I wish I liked wearing heels. I know lots of women (or, at least I hear about them?) that love heels and even find them "comfy."
I have never been that woman.
For me, I like the look of a heel when I'm wearing a short dress, and then I really enjoy taking them off about 2 hours later. That's about all I can take. And, I promise I'm not being wimpy, I think its genetic. Or, maybe I'm just stoopidly practical, but either way, I don't think I want to go the high-heel route for the wedding day. Or, if I do, I'd like to have a pair of cute flats to slip into after the ceremony. Oh yeah, the ceremony will be on grass, so that's a bit of an issue as well.
So, I'm thinking one very comfy pair of flats, or a pair of flats and a hotter (but still comfortable) pair of higher shoes that I'll take off after the ceremony.
Here are some of the options I'm looking at: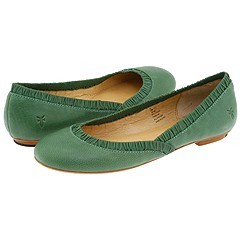 Frye "Emma Honeycomb Stud"
or Teal:
Thoughts?